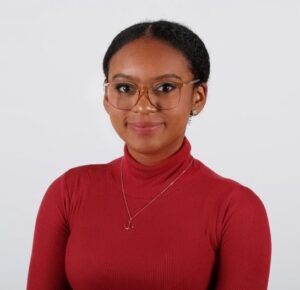 Music has a transformative ability that transcends reason… I joined the Pitch Exploration Lab because I wanted to better understand how we as individuals and a society interact with music.
Sharleen is a Penn State junior majoring in Biology with a focus in Neuroscience. During her undergraduate training, Sharleen has had several research experiences. She worked in Dr. Helen Kamens' Behavioral Neurogenetics lab to investigate the role of adolescent stress in opioid addictions and she also completed a summer program under Dr. Hao Wu at the Perelman School of Medicine, University of Pennsylvania, where she studied methods in cellular microbiology. As Project Coordinator for the Pitch Exploration Lab directed by Dr. Bryan Nichols, Sharleen is now pursuing her interest in understanding how music impacts an individual's physical, emotional, and spiritual wellbeing – a topic that since high school has intrigued her. As part of her role in the lab, Sharleen contributes to discussions during weekly lab meetings, collaborates with graduate students and faculty, and oversees projects that evaluate how individuals and society interact with music. Recently, she completed data collection for a project that recruited music majors to study how they detect errors in performances. She also presented a poster on this topic at the Donor Recognition Event for the College of Arts and Architecture in 2022.
Sharleen is a recipient of the R.Q. Thompson Endowed Scholarship in Biochemistry and Molecular Biology and a Provost Award Recipient. In 2021, she was a presenter at Penn State's WISER|MURE|FURP Undergraduate Symposium. Following her undergraduate degree, Sharleen hopes to continue her involvement with music before pursuing an MD/PhD to become a physician scientist in the field of Neuroscience.
Outside of research, Sharleen is an active member of Penn State's Essence of Joy choral ensemble and enjoys playing the violin.
The CSC wishes Sharleen all the best in her future academic pursuits!