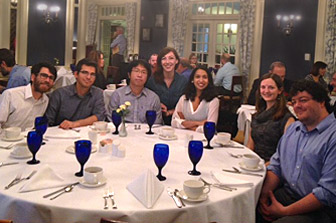 We have multiple ways that the Child Study Center provides support to students. Some methods of support are limited to Psychology students.
Breakfast with Child Study Center speakers. We have a group of four to seven graduate students join our speakers for breakfast at the Nittany Lion Inn. Not limited to Psychology students. Contact Laureen Teti at Lot1@psu.edu for more information.

Families Interested In Research STudies database. The FIRSt Families database was conceived as a university-wide vehicle for Penn State researchers to recruit infant and child study participants. If you are a researcher at Penn State University and would like more information about the FIRSt database, a copy of the FIRSt guidelines, or an application to use the FIRSt database for recruitment purposes, please contact Laureen Teti at Lot1@psu.edu.
The following options are only available to Psychology students: