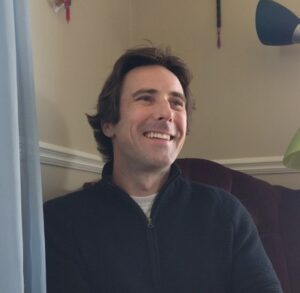 John Loughlin-Presnal finished his clinical internship at Penn State Counseling and Psychological Services in July 2018 and graduated in August 2019. After graduation, John was a postdoctoral fellow at Georgetown University's Counseling and Psychiatric Service (CAPS). Now, he is a Psychological Associate, still affiliated with Georgetown University's CAPS.
In graduate school, the focus of John's research was on the influence of parenting on the development of children's academic, social-emotional, and behavioral competencies, as well as the identification of parent-focused intervention targets that maximally promote these abilities.  The title of his dissertation was, "Do Gains in Executive Functions Support Sustained Intervention Effects in a Home and Preschool-Based School Readiness Intervention?" His primary mentor was Dr. Karen Bierman. John was awarded a Training Interdisciplinary Educational Scientists (TIES) fellowship and worked in two labs, the Coping and Regulation of Environmental Stress (CARES) lab with Dr. Martha Wadsworth and the Head Start Research Based, Developmentally Informed (REDI) project with Dr. Karen Bierman. While in graduate school, John had one first-authored publication and presented at many conferences and conventions. He taught classes and provided community outreach by serving as the facilitator of the Circle of Security Parenting Classes through the Penn State Psychological Clinic. John attended The University of Washington, where he received his Bachelor of Science with honors in Psychology.
It is John's belief that the Strumpf Scholar Award helped him accomplish his educational goals by allowing for additional training. This training aided his professional development and enabled him to continue his line of research. The award also provided him the time he needed to develop his proposed studies and produce the associated manuscripts, as well as help to facilitate travel allowing him to present his research findings at conferences.