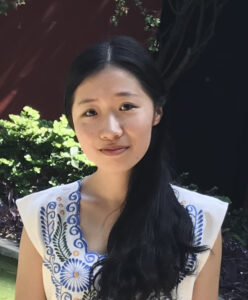 In the future, I hope to continue applying basic research in cognitive neuroscience to identify specific etiological pathways towards maladaptive developmental outcomes.
Xu (Elsie) Yan received her bachelor's degree in Psychology with a minor in Statistics from McGill University. As an undergraduate, she was intrigued by the influence of decision-making on the amount of cognitive effort someone exerts during a task. On this topic, she published a first-authored paper with Dr. Ross Otto in the journal Personality and Individual Differences. Elsie also became increasingly interested in understanding how variability in cognition and motivation may explain maladaptive outcomes. After graduation, she worked with Dr. Madeleine Sharp at McGill University studying how alterations in the dopaminergic system affect learning and motivation in Parkinson's patients. A desire to work with youths experiencing psychopathology and substance use problems led Elsie to pursue Child Clinical Psychology at Penn State.
Elsie's work as a second-year graduate student in Dr. Cynthia Huang-Pollock's lab focuses on using cognitive neuroscience to inform pathways that lead to maladaptive developmental outcomes. Her master's thesis looked at data from a task which had participants put in increasingly higher levels of cognitive effort. She was particularly interested in how reward might motivate children with ADHD during this task. She found that children with ADHD did not distinguish between different levels of effort as easily as the control group, which she hypothesized might lead children with ADHD to be more optimistic about the level of difficulty they could do during the task.
Elsie hopes to continue expanding her research on neurocognitive functioning to early risk identification and the prevention of negative outcomes, like substance abuse. Toward these goals, in 2022 Elsie was awarded a Prevention and Methodology Training Program (PAMT) pre-doctoral fellowship from the Edna Bennett Pierce Prevention Research Center at Penn State. She is working with Drs. Emily Ansell and Eric Claus to examine cognitive risk mechanisms underlying the transition from recreational substance use to problematic use. She is particularly interested in assessing reward functioning and inhibitory control as potential transdiagnostic risk factors in this transition. Following graduate school, Elsie plans to use her clinical and research training to help make a difference for youths vulnerable to negative life outcomes.