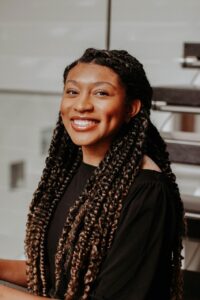 My goal with research is to amplify the voices of Black girls, so our lived experiences can be centered and understood.
Victoria is a recent Penn State Schreyer Honors College graduate with her B.S. in Biobehavioral Health with honors in Social Justice in Education. After taking Penn State's D.C. Social Justice Fellowship course with Dr. Ashley Patterson and Dr. Efraín Marimón, Victoria became interested in learning more about the factors contributing to the invisibility of Black girls in schools.
As an undergrad, Victoria worked on the Child Health Study with Dr. Jennie Noll and in the Context and Development Lab with Dr. Dawn Witherspoon. In Dr. Witherspoon's lab, she conducted two research projects examining the protective and risk factors of Black girls within the school context. Victoria presented her work at the Society for Research in Child Development (SRCD) Biennial meeting and was selected to share her poster at the SRCD Black Caucus poster session. She also completed a research project with the McNair Scholars Program and presented her findings at the Society for Research on Adolescence and the McNair Scholars Virtual Conference. Recently, Victoria completed her honors thesis, a systematic literature review examining the different individual and school experiences that contribute to the overrepresentation of Black girls entering the school-to-prison pipeline. In August of 2022, Victoria will attend the Penn State College of Medicine IUG MPH program in Hershey. She hopes her honors thesis will prepare her for completing her Master's in Public Health Capstone.
Outside of the lab, Victoria served as the Executive Director of the Penn State Alternative Breaks program during her senior year. Through this program, she traveled to Columbia, South Carolina, where she volunteered in a juvenile detention center and learned more about juvenile justice and mass incarceration. She also led a trip to Selma, Alabama, where she learned more about racial justice and voter registration. During the summer of 2021, Victoria served as the first Diversity, Equity, and Inclusion Intern for Health Law Advocates. During the summer of 2022, she will serve as the Talent Acquisition Diversity, Equity, and Inclusion Intern for Syneos Health.
The CSC wishes Victoria all the best in her future academic pursuits!