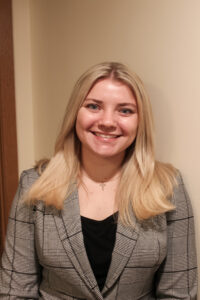 I learned how much sport involvement can affect the development of youth in a negative or positive way depending on a person's own lived experiences.
Tori is a senior at Penn State majoring in Biobehavioral Health (BBH). Having played sports while growing up and into her college career, she knows firsthand the important role sports can play in an individual's life. As an undergrad, Tori decided to look more closely at the role of sports on youth development and began working as a research assistant with Dr. Jennifer Agans, Assistant Professor of Recreation, Park, and Tourism Management at the Edna Bennett Pierce Prevention Research Center. Under Dr. Agans' mentorship, Tori helps examine how sports and other activities that take place outside of school influence the development and well-being of young people. This research has highlighted the link between participation in a range of extracurricular activities and future beneficial outcomes, as well as shown that a decline in participation over time may be associated with risk-taking and negative mental health outcomes. As a research assistant, Tori's roles include conducting literature reviews, as well as writing and running syntax for data cleaning and analyses and creating a codebook for the lab's dataset. In a recent project, Tori created a codebook and syntax to analyze data examining whether choosing a physical activity that aligns with an individual's personality and goals impacts the frequency with which they engage in the activity.
Outside of the lab, Tori enjoys reading and spending time with her friends. She is a member of Penn State's BBH Society and regularly attends their meetings and events. She has been awarded with academic all-conference honors for softball twice and was named on the dean's list at Penn State New Kensington prior to transferring to the University Park campus. Following graduation, Tori intends to pursue nursing school in Pittsburgh in preparation for a career as a travel nurse.
The CSC wishes Tori all the best in her future academic pursuits!