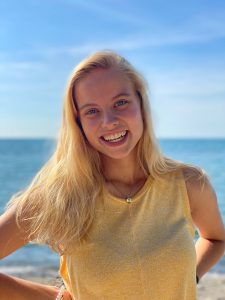 I believe that my lab experiences have taught me valuable skills like time management, organization, and problem solving.
Sydney is a Penn State junior majoring in Psychology with a specialization in Life Sciences and minoring in Human Development and Family Studies. She decided to pursue a career in psychology after taking AP Psychology in high school. With that goal in mind, she joined Dr. Michelle Newman's Laboratory for Anxiety and Depression Research her freshman year at Penn State.
As an undergraduate research assistant in Dr. Newman's lab, Sydney has direct human subject contact during which she helps participants prepare for a nine-day long routine of tracking their emotions. Sydney guides participants through the process and is later responsible for entering the data. She has played a crucial role in helping shift the study to a virtual format during the pandemic. In addition, Sydney is a research assistant in the Development, Risk, and Resilience Lab, working with Dr. Rina Eiden. In that lab, she is responsible for observational coding of aggression during parent-child interactions. Sydney is also heavily involved in recruitment efforts for Dr. Eiden's Strong Family Foundations Study clinical trial. When not in the lab, she is a teaching assistant for developmental psychology and personality psychology classes. Sydney has also acquired clinical experience through shadowing a therapist.
Recently named the recipient of the Mona Shibley Bird Memorial Award, which recognizes student excellence and academic achievement, Sydney is excited for what the future holds. She wants to pursue a Master's degree in Marriage and Family Counseling. Sydney is also an EcoRep, promoting sustainability efforts amongst students using behavior modification strategies. She is a distinguished member of Psi Chi, the International Honor Society in Psychology, a member of an all-female choir, and a Liberal Arts ambassador.
The CSC wishes Sydney all the best in her future academic pursuits!