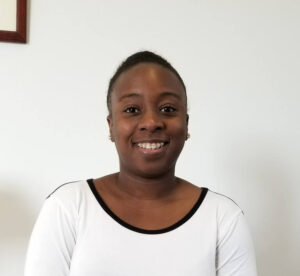 I intend to further explore the connection between parenting competence, co-parenting and sleep quality from infancy through school entry especially as they predict socioemotional and academic outcomes.
Sabrina Voltaire's first introduction to research occurred in Dr. Friberg's lab at Liberty University. There, she examined young adults' attachment style and its influence on concurrent and later social and academic outcomes. Through this experience, Sabrina became interested in the research process from data collection to analysis and presented at a regional academic conference. After graduating with a B.S. in Psychology and an M.A. in Human Services from Liberty University, she wanted to pursue graduate work and extend her research questions past close relationships with young adults to investigate the influence of close relationships across development.
Working with Dr. Doug Teti in Human Development and Family Studies, Sabrina has shifted from focusing on close relationship processes in young adulthood to studying parenting practices with infants and young children as well as examining the context in which these relationship processes occur. More specifically, Sabrina is interested in how parenting practices at bedtime and nighttime contribute to the quantity and quality of infants' sleep, and, in turn, how infants' sleep patterns relate to later socioemotional and academic functioning. Through this line of research, Sabrina found that differences in parenting practices while infants slept predicted infants' sleep regulation over the first year of life. These findings were published in Sleep Medicine. To build on these findings, Sabrina plans to examine whether factors related to the co-parenting relationship may account for differences in parenting practices during infants' bedtime and nighttime routines. In addition, Sabrina intends to explore the connection between infants' early sleep quality and socioemotional and academic outcomes in early childhood and at school entry.
Because Sabrina is also passionate about making basic developmental research more accessible to parents and providers, Sabrina hopes to explore how to better bridge the gap from developmental research to intervention implementation and practice in the future.