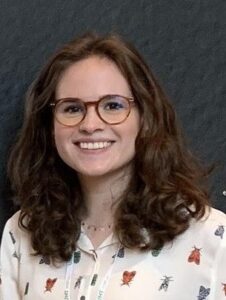 From my research experience, I have learned a lot about myself, my work ethic, my boundaries, and my strengths.
Nikolina is a senior at Penn State York majoring in Human Development and Family Studies and minoring in Biology. She has worked with Dr. Sukhdeep Gill since the beginning of her junior year.
Nikolina has worked with Dr. Gill on the Recipe 4 Success (R4S) study, an NIH-funded study (P.I. Dr. Robert Nix), which tests an intervention aimed at improving young children's healthy eating behaviors and health outcomes. Nikolina's focus has been on behaviorally coding videos of parents and children during a snack sharing activity. She has also gained experience with collecting data and conducting statistical analyses. With Dr. Gill, Nikolina conducted independent research, using the R4S data to examine parents' strategies to promote healthy eating in toddlers. She found that the ways in which parents offer food to children, such as offering meaningful choices and offering in a sensitive way, were positively associated with children trying new foods. She presented this research as a poster at the National Council on Family Relations last fall. Nikolina feels that her research experiences under the mentorship of Dr. Gill have helped her grow both professionally and personally.
After Nikolina graduates, she will begin a Ph.D. program in Human Development and Family Studies at Purdue University, where she will continue to study how parenting is associated with child health and development. She plans to work with advisors who study the impact of the perinatal environment on infants and young children. When not at work, Nikolina enjoys hiking, spending time in the sun, and keeping in touch with friends.
The CSC wishes Nikolina all the best in her future academic pursuits!