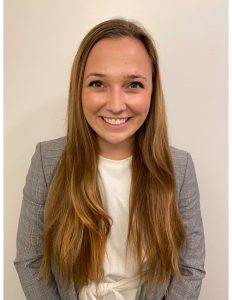 For my honors thesis, I was interested in the mother-infant relationship and the mother's emotional availability.
Nicole is a Penn State senior majoring in Biobehavioral Health with a minor in Human Development and Family Studies. Ever since she was a child, she has been interested in how people grow and develop over time. As an undergrad, she sought out work as a research assistant in the College of Health and Human Development.
Working under the mentorship of Dr. Douglas Teti, Nicole is primarily involved with the Study of Infants' Emergent Sleep Trajectories, Project SIESTA. One of her main responsibilities in the lab is the behavioral coding of parent-infant interactions at bedtime and the level of cooperation between parents. This research prompted her interest in examining the mother-infant dyadic relationship, which she decided to further examine for her honors thesis. Working with Dr. Teti, Nicole is investigating this dyadic relationship and the influence of breastfeeding on maternal confidence and the mother's emotional availability, where maternal emotional availability is defined as sensitivity, structuring, non-hostility, and non-intrusiveness towards the infant.
In addition to research experience, Nicole has served as an emergency medical technician, as well as a volunteer providing first aid during summer camps. She has also shadowed in multiple hospitals across different departments to gain additional experience. Nicole is eager to translate everything she has learned into a career in the healthcare field.  After graduation, she plans to attend graduate school to become a physician assistant, with a specialization in women's health.
Nicole has been continuously engaged with campus activities since her freshman year at Penn State. She has been a Lion Scout tour guide, a member of the hospitality committee for Penn State THON, and a member, coach, and vice-president of the competitive club cheerleading team.
The CSC wishes Nicole all the best in her future academic pursuits!