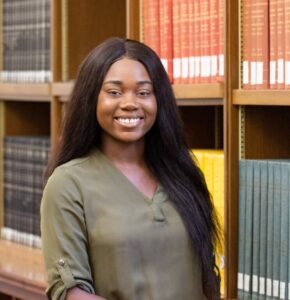 With the right people around you, you can do things you never thought you would.
Nandrea Burrell is a senior at Penn State majoring in Psychology with a concentration in Neuroscience. She is on track to complete her Bachelor of Science in three years. Nandrea joined Dr. Dawn Witherspoon's Context and Development Lab in the spring of 2019 in order to pursue her research interest of studying the impact context, culture, and family have on diverse adolescents' educational and developmental outcomes.
Nandrea was selected to be a recipient of the Ronald E. McNair Scholars Program during the summer of 2019, which gave her the opportunity to conduct an independent research project under the supervision of a faculty research advisor. Nandrea is working with Dr. Dawn Witherspoon on this research project, which examined the roles of neighborhood context and parental involvement in African American and Latino adolescents' academic outcomes. After completing her McNair project, Nandrea submitted it as a poster proposal to the Society of Research on Adolescence (SRA). Her proposal was accepted, and she will present her research at the spring 2020 conference in San Diego. Nandrea was recently selected for the SRA Undergraduate Scholars Program, which will fund her travel to the conference and provide opportunities for networking and additional mentorship.
As Nandrea reflects on her experiences, she feels that she has grown both professionally and personally. The biggest lesson, she says, is that "I learned not to limit myself. Along the way, I realized that I am capable. With the right people around you, you can do things you never thought you would."
In the future, Nandrea plans to attend a Ph.D. program in Developmental Psychology or Human Development and Family Studies. The Child Study Center wishes Nandrea the best as she continues her academic pursuits!