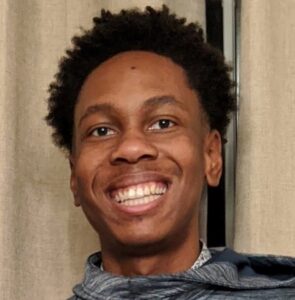 I am interested in finding a way to more holistically include contextual research in face recognition science to better account for the day-to-day experiences of individuals from differing racial and ethnic groups and the way that influences their social networks.
Myles Arrington is a graduate student in the Developmental Psychology program. He received his undergraduate degree in Psychology with a minor in Neuroscience from the University of Maryland in 2019. As an undergraduate, Myles worked primarily on a project in the honors college where he studied how the use of 3D printing could help sustain Chesapeake Bay oyster populations. This experience evoked Myles' interest in pursuing academic research. He was also involved in a lab studying cultural psychology and how values and norms influence individuals' behaviors in different contexts. In 2017, Myles completed an internship with the Early Development Lab at The University of Virginia in which he was involved in a project examining children's learning across different forms of media, such as digital or physical puzzles. These experiences led Myles to the field of developmental psychology. Myles became particularly interested in Dr. Suzy Scherf's research and working in a collaborative setting, which led him to pursue his doctorate at Penn State.
In his current work with Dr. Scherf, Myles is examining individual differences in face recognition and factors that contribute to these differences in both the underlying processes and outcomes of face recognition. Myles is particularly interested in studying the developmental progression of these differences and how this differs across cultural contexts and individuals' life experiences. Myles defended his Master's project in September 2021 on face recognition abilities in emerging adults and whether their relationships with others impacted their recognition processes. This project incorporated well-studied and novel measures of social connectedness to study how an individual's social network impacts their facial recognition processes. Currently, Myles is writing an R36 grant in which he hopes to use data to explore behavioral and neural markers of the development of face processing after puberty, how these domains of development change over time, and how the disruption caused by the COVID-19 pandemic may have impacted this development.
Myles hopes to enter academia with a faculty position upon the completion of his doctorate. He would like to contribute to advancing developmental research and to serve as a mentor for students who are not well represented in academia.