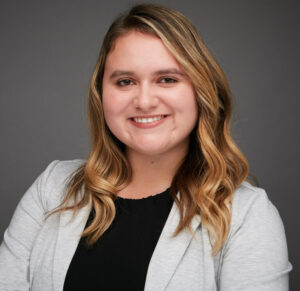 I have enjoyed the flexibility of my mentors at PSU in letting me explore my interests and take a project idea and make it my own.
Marley Billman is a senior at Penn State majoring in Psychology and minoring in Rehabilitation and Human Services. Marley is Vice President of the local Psi Chi chapter and works as the Lab Manager of Dr. Amy Marshall's Relationships and Stress Research Lab, where she has coordinated a project on how the developmental timing of trauma exposure is associated with social-cognitive outcomes and assisted with another study on trauma and family violence.
Marley's research interest in trauma began during her time in the Honor's Program at Penn State's Mont Alto campus. During her first year, Marley conducted an independent research project focusing on trauma therapy techniques and differential outcomes for trauma victims with Dr. Robin Witmer-Kline. After transferring to University Park, she conducted a project on emotional connection with intimate partners following childhood sexual abuse, which she presented at the 2019 Psi Chi Undergraduate Research Conference. Marley's current research builds on these interests. With Dr. Marshall, she is examining gender differences in trauma type and chronicity of exposure. Marley has received recognition for her academic excellence and her promise in the field of psychology. She won the Mona Shibley Bird Memorial Scholarship in Psychology and was a distinguished guest speaker at the Mont Alto campus open house, where she was invited to speak about her transition to University Park. Marley felt honored to speak to high school students about her academic path and her major in Psychology.
After graduating this spring, Marley plans to continue her position as a Psychiatric Technician with Merakey, where she works in a group home and in an apartment complex for individuals transitioning out of psychiatric inpatient settings. She will also begin a research position with the Briarcrest Eating Disorders Clinic at the Penn State Hershey Medical Center. Marley plans to apply to clinical psychology Ph.D. programs in the future.
The CSC wishes Marley the best in her future academic pursuits!