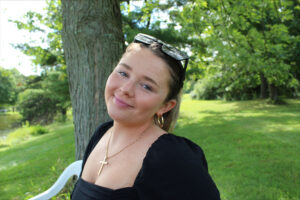 I love working with kids, which prompted me to pursue being a research assistant in Dr. Bierman's lab. She does really amazing work on interventions for children and it has been amazing to be part of it.
Maddie is a senior at Penn State majoring in Psychology. During her time at the university, Maddie has been part of research teams and utilized other resources that helped her discover an interest in the socioemotional development of children.
Maddie's desire to work with children and learn more about child-focused interventions led her to Dr. Karen Bierman's School Readiness lab. In the lab, Maddie works on the GoPals Kindergarten Club program. GoPals focusses on fostering parent and child interactions to promote school readiness and social-emotional development. Maddie hopes that her work in the lab might contribute to academic publications that will allow the program to grow into a common and accessible pre-kindergarten parenting program. She believes such a program would greatly benefit the next generation of children. Maddie also serves as a group leader for the Friendship Group Program in the Penn State Child Study Center. Friendship Group is an educational and outreach activity that provides social skill development activities to children in the community while also serving as a training opportunity for advanced undergraduate students interested in careers working with children. The curriculum used in the Friendship Group Program includes age-appropriate activities designed to target skills that have been identified as critical for building positive relationships. As a group leader, Maddie presents and models these skills and strategies to participating children and provides the children with opportunities to practice them.
Outside the lab, Maddie is the public relations chair of Penn State's chapter of Psi Chi, the International Honor Society in Psychology. In her free time, she also enjoys yoga, reading, and cooking. After graduation, Maddie will be attending graduate school at George Washington University in Washington, D.C. to pursue a master's degree in Clinical Mental Health Counseling.
The CSC wishes Maddie all the best in her future academic pursuits!