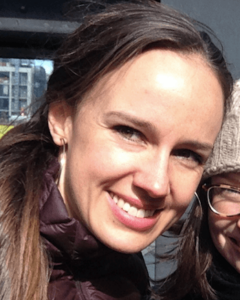 I want to detect physiological pathways by which early experiences get into the body to influence mental and physical health in adulthood. In the future, I'd like to apply this developmental lens to identify mechanisms that explain health disparities.
Kelsey's undergraduate studies at Harvard University focused on how developmental science informs both domestic and international law. After completing her degree in Social Studies, Kelsey taught preschool at Horizons for Homeless Children. There, Kelsey observed firsthand how stress can affect children's basic regulatory functioning. As a Hauser Human Rights Research Fellow at Harvard, Kelsey studied policy and practice related to family homelessness. Following this fellowship, Kelsey joined Zero to Three as a federal policy analyst, where she worked to inform policies that impact young children, including child welfare, early education, health, and mental health.
Since beginning her graduate work with Dr. Ginger Moore in Child Clinical Psychology at Penn State, Kelsey has pursued research questions that focus on how early regulatory experiences become embedded in the body. In 2013, Kelsey was awarded a National Science Foundation Graduate Research Fellowship to pursue this line of research. In a study published in Child Development, she explored whether infant feeding practices may be an early regulatory process. She found that breastfeeding and non-breastfeeding infants and their mothers showed distinct patterns of parasympathetic responding during a mildly stressful social interaction. Continuing to explore the development of physiological regulatory systems in early childhood, Kelsey published a paper in Developmental Review synthesizing literature on the early development of cardiac autonomic balance and its implications for mental and physical health later in life.
Kelsey is currently working on her dissertation, in which she plans to explore developmental antecedents of children's cardiac autonomic balance at age 5. Kelsey is excited to continue this program of research as she applies for clinical internship this year. In future work, she hopes to examine whether cardiac autonomic balance is a pathway by which early experiences get under the skin to influence health and mental health in adulthood.