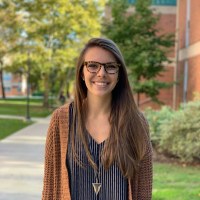 I am interested in the way attention processes guide how developing children interface with their social environment.
Kelley Gunther, a graduate student in the Developmental Psychology program and a NSF research fellow, received her undergraduate degree in Psychology with a minor in Neuroscience from the University of Maryland in 2015. As an undergraduate, Kelley worked primarily on a project examining the role of emotion priming on visual search with Dr. Nathan Fox. After graduation, she spent the following two years working as a lab manager with Dr. Dima Amso at Brown University studying the development of visual attention. These experiences shaped her interest in methods for how best to measure visual attention in a developmentally sensitive way, which is what led her to Penn State and Dr. Koraly Pérez-Edgar's work.
Working with Dr. Pérez-Edgar, Kelley has examined ways that attention guides how children interface with their social environment, and how those repeated processes may or may not be related to children's development of internalizing disorders. Kelley also works with Dr. Chuck Geier in Human Development and Family Studies learning how to apply neuroimaging techniques, such as resting state fMRI, to her research interests. For her dissertation, Kelley has completed two studies examining methods for measuring neural and cognitive indices of children's attention and how those measures relate to behavior and later mental health outcomes. The first study indicated that greater attention shifting predicts fewer internalizing symptoms in children, regardless of differences in brain connectivity, but that brain connectivity may play a role in whether inhibitory control is similarly protective. The second study found that children with high effortful control and fewer internalizing symptoms display decreases in eye-blink rate as task demands increase during a game, but children not fitting this profile do not. These findings may suggest individual differences in dopamine neurotransmission related to behavioral differences. Aside from her dissertation research, Kelley is also collaborating on a project using fNIRS to examine parent-child regulatory synchrony during a still-face paradigm.
Kelley's passion for research, teaching, and mentoring has only amplified her desire to stay in academia upon graduation. Kelley recently accepted a post-doctoral position at Yale University after which she will apply for positions as a tenure-track professor.