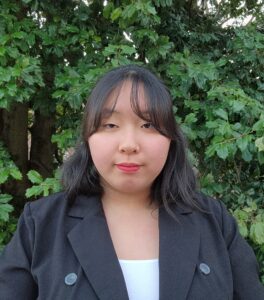 I always had a desire to help people. I realized how little people acknowledge the importance of mental health and decided I want to help people heal.
Jihee is a Junior at Penn State majoring in Psychology. Her research interests focus on developmental psychology and language. For the last two years, Jihee has worked in Dr. Kristin Buss' Emotion Development Lab (EDL), which studies social-emotional development from infancy to early adolescence. Starting as a research assistant and now working as a part-time employee, Jihee's roles in the lab have included running participant visits, behavioral coding, and mentoring other research assistants. She also helps with the lab's psychophysiology measures by assisting with the collection of participant saliva samples, recording a measure of heart rate called respiratory sinus arrhythmia (RSA), and preprocessing the lab's electroencephalogram (EEG) data. In addition to working in the EDL lab, Jihee is a research assistant in Dr. Navin Viswanathan's Speech, Language, and Cognition Lab, which studies speech perception and production. Jihee is currently helping to develop a project that examines differences in the perception of vowel sounds between Dutch and American English speakers.
During the Fall 2022 semester, Jihee became a Schreyer's honors student and began working with Dr. Sarah Myruski, EDL Associate Lab Director and Assistant Research Professor of Psychology, as her thesis supervisor. Jihee plans to examine research questions about adolescent anxiety trajectories across the phases of the COVID-19 pandemic, emphasizing the role of parental support of teens' emotion regulation. Following graduation, Jihee plans to pursue a PhD in Clinical Psychology with a focus in developmental psychology with the goal of becoming a licensed clinical psychologist.
Outside of research, Jihee is involved in Penn State's Rehabilitation and Human Services student organization (RHSSO), as well as the Korean Learning Club, and the Language Growth Club. Jihee is excited to utilize her knowledge of language enabling her to provide services to clients of multiple language backgrounds in her future clinical practice.
The CSC wishes Jihee all the best in her future academic pursuits!