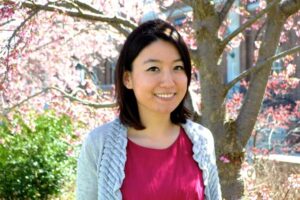 Eye-tracking as a methodology could provide new and pivotal insight into attention as a mechanism.
Before arriving at Penn State, Jessie completed her master's degree at the University of Oxford with Dr. Jennifer Lau.  Under this mentorship, Jessie took a developmental psychopathology approach to studying the development of anxiety problems.  Jessie's master's thesis examined fear learning and the markers of anxiety symptoms in adults.  Her study found that experiencing fear in a non-fearful context is an indication stable anxiety.  Jessie's interests in why some children go on to develop anxiety problems and why others do not led her to pursue her doctoral degree at Penn State.
As a graduate student, Jessie is working with Drs. Koraly Pérez-Edgar and Kristin Buss.  Over her graduate career, her research questions have focused on fearful temperament, or the biologically-based risk factor for developing social and emotional problems such as social withdrawal and anxiety.  To study why some children go on to develop these adjustment problems and why others do not, Jessie has looked toward extrinsic and intrinsic factors that influence how children change over time.  Jessie integrates the knowledge she has gained in Dr. Pérez-Edgar's lab, concentrating on attention and biological processes, with her work in Dr. Buss' lab, which incorporates environmental influences, to better understand the manifestation of the social and emotional problems certain children face throughout childhood.  In a recent publication, Jessie looked at the underlying neural processes of attention biases to threat and how they play a role in the link between behavior inhibition, or the tendency to experience distress in novel situations, and anxiety problems. She posits that this early biological predisposition can influence how the brain responds to certain social experiences, ultimately leading to anxiety problems in some cases.  Jessie is also working on a study looking at how cortisol responses during social interaction influence the relation between fearful temperament in toddlerhood and social withdrawal problems in the kindergarten peer group, and how these links are specific to children exposed to certain parenting strategies.  Jessie is interested in looking not only at how mothers may influence their children's behavior, but also how children may be affecting parenting.
Jessie is leading a project that uses head-mounted eye-tracking to assess attention patterns in 5- to 7-year-olds in real-time as they interact with novel objects, unfamiliar adults and peers. For her dissertation, she looked at whether there is an association between ambulatory looking behavior toward an adult stranger and attention bias patterns toward emotional faces measured in a traditional stationary eye-tracking task. She examined whether biased attention patterns toward the naturalistic and screen-based threat-eliciting stimuli jointly predict vulnerability for anxiety problems.
While Jessie is finishing up her projects at Penn State, she is excited to start her post-doctoral training with Dr. Eric Nelson at the Research Institute at Nationwide Children's Hospital.