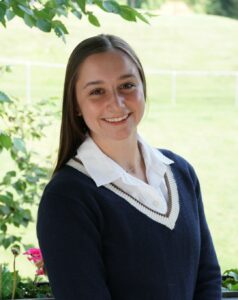 The education I gained from my HDFS classes and participation in research has been invaluable in shaping my future aspirations to continue engaging in pediatric research!
Jessica is a Penn State Schreyer Honors College senior majoring in Biochemistry and Molecular Biology and completing an honors thesis in Human Development and Family Studies. Throughout her undergraduate years, she has not only excelled in academic endeavors but has also been continuously involved in research.
Jessica's early research experience in a biochemistry wet lab and at the University of Pittsburgh helped her realize her passion for clinical and social science research. These experiences led Jessica to Dr. Douglas Teti's Study of Infants' Emergent Sleep Trajectories (SIESTA) Project, a project studying the behavior of infants and parents during bedtime and links to children's later socio-emotional functioning. During her time on the SIESTA Project, Jessica has served many roles. Currently, she is a part of the co-parenting team that codes parent's behavior prior to putting their children to sleep. For her honors thesis, Jessica is examining how at-risk mothers display resilience when met with the stress associated with the transition to parenthood. She hopes to submit her honor's thesis for publication and hopes it might reach new parents seeking to understand ways to best cope with stress associated with the early stages of parenthood.
Outside of research, Jessica is the president and choreographer of her dance team, Whiplash Dance Team, which performs at many Penn State events and is the three-time reigning champion of Penn State Homecoming's Allen Street Jam dance competition. She is also a founding member of the Days for Girls Penn State Chapter, which takes a stand against period poverty – the lack of access to menstrual products and essentials needed for period care. After graduation, Jessica is attending medical school at the Penn State College of Medicine with the hope of becoming a pediatric hospitalist. She attributes working in Dr. Teti's lab to helping her realize her passion for working with children and their caregivers and hopes to continue this work as a physician.
The CSC wishes Jessica all the best in her future academic pursuits!