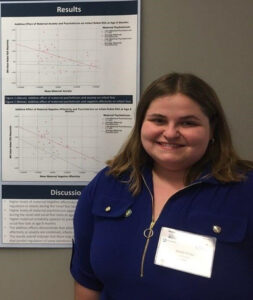 I plan to study the connection between parents and their children's psychological functioning.
Jennifer Phillips is a senior Penn State Schreyer Honors College scholar majoring in psychology and minoring in biology. Jennifer first joined Dr. Michael Roche's lab as a sophomore at PSU-Altoona. In Dr. Roche's Psychological Assessment of Temporally-dynamic Traits, Emotions, and Relationships in Naturalistic Settings (PATTERNS) lab, Jennifer assisted with coding for a project investigating alternative models of personality dysfunction assessment. Through that experience, Jennifer co-authored a publication related to this work, published in 2018 in the Journal of Personality Assessment. This opportunity also sparked Jennifer's interest in research and she began to think more about how adults' functioning relates to their parenting. When she transferred from PSU-Altoona to PSU-University Park during her junior year, she joined Kristin Buss' Emotion Development research lab. There, Jennifer worked as a research assistant on a longitudinal infant attention project. With this project, she helped run infant participants and assisted with analysis of heart rate data and presented research related to this work at the International Congress of Infant Studies Biennial Convention in June 2018. She also gained experience with collecting EEG and eye-tracking data. Finally, Jennifer completed an Honors thesis aimed at investigating how maternal psychological functioning or personality factors impact infant regulation.
After graduation, Jennifer plans to attend graduate school at Virginia Tech and work with Dr. Martha Ann Bell in pursuit of a PhD in developmental psychology. She hopes to continue studying the connection between parents and their children's psychological functioning, and she plans to extend that work to incorporate more longitudinal research and intervention.
We wish Jennifer the best as she continues her academic pursuits!