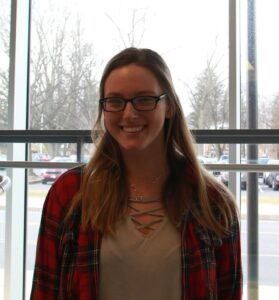 For being such a large campus, Penn State has a way of making everyone feel like an individual. There is something here for everyone!
Jenelle Richards is a Penn State senior majoring in psychology and minoring in sociology. She works as a research assistant in both Dr. Amy Marshall and Dr. Michelle Newman's labs. Jenelle joined Dr. Amy Marshall's Relationships and Stress Research Lab in 2017 to pursue her research interests in trauma exposure and posttraumatic stress disorder (PTSD) across the lifespan. As a scholar in the McNair Program, she led the initiation of a project investigating whether trauma exposure during puberty confers specific risk for social cognitive deficits later in development. Jenelle has developed the protocol, collected data from approximately 30 participants, learned SPSS, wrote extraordinarily complex syntax to appropriately summarize the data, and analyzed the data. She presented this work during the McNair symposium held at Penn State in 2017.
Working as a research assistant in Dr. Marshall's lab has solidified Jenelle's passion for research and prepared her to be an independent scholar. Working with Dr. Marshall has enhanced Jenelle's organizational skills and has taught her a remarkable degree of initiative. After graduation, Jenelle will be involved in research on trauma, with the goal of gaining more experience prior to submitting her applications for Ph.D. programs in clinical psychology. In the fall of 2018, she will be attending the Masters of Arts in Psychology in Education at Teachers College, Columbia University. In her free time, Jenelle is very involved in THON, Penn State's Dance Marathon, and has been on a committee for THON throughout her undergraduate years here.
We wish Jenelle the best as she continues her academic pursuits!