Jacqueline (Jackie) Tucker ('18)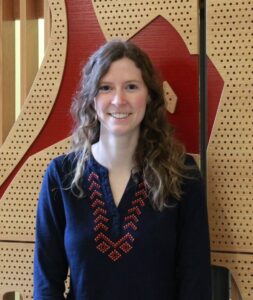 Research has allowed me to explore my interests further and to enhance my education outside of the classroom.
Jackie Tucker is a Penn State senior majoring in Biomedical Engineering. Jackie joined Dr. Kristina Neely's Brain and Behavior Lab in 2015 to pursue her research interests in brain development and neurodevelopmental disorders. Since that time, she has contributed to the day-to-day operations of the lab. She has learned to post-process kinetic data using Matlab, conducted behavioral experiments in the lab, and assisted with experiments at the 3T MRI center. She was awarded a prestigious Erickson Discovery Grant to work in the lab during the summer of 2017.
Jackie has developed her honor's thesis with Dr. Neely and received an Undergraduate Research Travel Grant to present a portion of her thesis as a poster at the Society for Neuroscience conference in 2017. Her thesis focuses on examining sensory and motor differences in adults with and without ADHD. The overarching goal is to determine whether deficits in somatosensory encoding exist, and if so, whether they are related to motor output and/or ADHD symptoms. Jackie is the lead research assistant on this project, where she coordinates data collection sessions, processes, organizes, and analyzes the dataset, and creates manuscript figures.
Working as a research assistant in Dr. Neely's lab has broadened her research horizons and opened up avenues Jackie might pursue for her career. In addition to enhancing her research skills, Jackie learned important collaborative and leadership skills as she worked with Dr. Neely, Dr. Neely's graduate students, and other research assistants. She has gained valuable communication skills when working with study participants. After graduation, Jackie plans to begin a medical education (MD) program in the fall of 2018.
In her free time, Jackie likes spending time outdoors in activities like running and skiing. She also enjoys reading.
Jackie suggests that undergraduates who are looking for a research assistant position and who do not know what their research interests are should try different things.  Shadowing faculty or graduate students in labs, or talking to professors to see if their research sparks your research interests are a couple of ways to do this.
We wish Jackie the best as she continues her academic pursuits!