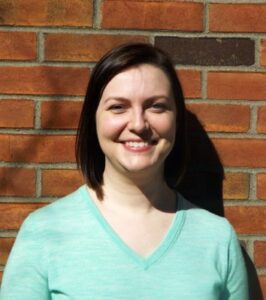 The development of clinical measures that tap into the entire distribution of performance will allow clinicians to detect the occurrence of attentional lapses that may be indicative of ADHD.
Hilary Galloway-Long has had a long-standing interest in human cognition. Her interest first emerged when she was an undergraduate at Lewis & Clark College in Oregon, where she was a Psychology major. Hilary pursued a summer research program with Dr. Yeuping Zhang, which allowed her to explore executive functioning and impulsivity in college drinking behaviors. This was Hilary's first experience conducting independent research and she found that it was a process she truly enjoyed. Specifically, she picked a broad range of measures, collected the data, and presented results from the study at a university event. Following her graduation, she began as a volunteer with Dr. Joel Nigg at Oregon Health & Science University. Hilary flourished in this lab and eventually became a full-time data manager for a study focusing on ADHD longitudinally in middle childhood through adolescence. Hilary spent three years in the lab, beginning as a basic data collection assistant and data enterer; by the time she left, she was overseeing most of the data processing and preparation for analyses. What fascinated Hilary most about this research was how minute mechanisms, such as components of executive functioning, explain pervasive behaviors that parents observe in their children.
Hilary's interest in these mechanisms underlying ADHD in children led her to pursue graduate training with Dr. Cynthia Huang-Pollock in the Child Clinical Psychology area. In particular, Hilary was most excited about Cynthia's focus on basic cognitive mechanisms (i.e., working memory and processing speed) that underlie deficits in ADHD and how to properly assess them. Hilary's work has focused on how children within ADHD populations have different ways of arriving to particular responses in cognitive tasks commonly used in research. In her research, she uses sophisticated statistical models to determine how often a child with ADHD has exceedingly slow responses, a phenomenon that cannot be captured with an average of performance. She finds children with ADHD who have a higher number of really slow responses also have poorer working memory performance, which may be indicative of attentional lapses that occur during cognitive tasks. Hilary notes that these findings are important because they begin to show that multiple cognitive mechanisms, including generally slow processing and attention lapses, are associated with ADHD and may explain differences within the population.
Hilary is especially proud of this approach as a potentially powerful tool that can be used in clinical practice. Currently, clinical assessments rely heavily on using averages of performance, but Hilary's work advocates for the development of clinical measures that tap into the entire distribution of performance, which will allow clinicians to detect the occurrence of attentional lapses that may be indicative of ADHD. She notes this as an exciting next step and implication of her work, which she hopes to expand upon. In fact, Hilary and her colleagues wrote a short editorial piece encouraging researchers and clinicians to examine the full distribution of performance, which was featured in the National Academy of Neuropsychology Bulletin. In her dissertation work, she hopes to build on this by exploring more clinical applications of her master's thesis.
In the future, Hilary plans to pursue a post-doctoral position in which she can work on maximizing the utility of cognitive assessments being used in clinic settings. Hilary is excited to continue working with ADHD populations, but also hopes to do work that has applications for other populations. For example, Hilary notes that the effects of radiation treatment can result in severe cognitive deficits during and after treatment, which she thinks could be more properly understood with fine-tuned assessments such as those she is focused on developing. She hopes to ultimately be a practicing clinical neuropsychologist in a hospital setting where she can be at the crux of translational research aimed at improving cognitive assessments used in clinical settings.