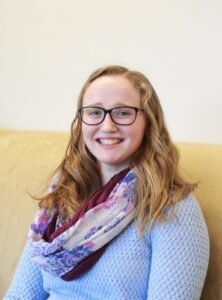 Through working as an undergraduate research assistant in Drs. Teti and Caron's labs, I have discovered that I really enjoy doing research.
Heidi Fanton is a Penn State junior majoring in Communication Sciences and Disorders. She has been a research assistant in both Dr. Douglas Teti and Dr. Jessica Gosnell Caron's labs. In Dr. Teti's lab, Heidi joined the Study of Infants' Emergent Sleep Trajectories (SIESTA) project. She was awarded a Summer Undergraduate Research Grant from the College of Health and Human Development to work on an independent study with Dr. Teti. In particular, Heidi has examined the links between infant sleep arrangements, that is, whether children sleep with their parents or they sleep by themselves, and maternal depression, anxiety, and emotional availability at bedtime. The findings of this project will be presented at The International Congress of Infant Studies (ICIS) 2018. Working in Dr. Caron's lab has added to Heidi's breadth of experience in, and understanding of, child literacy development.
Through working as an undergraduate research assistant in Drs. Teti and Caron's labs, Heidi has discovered that she really enjoys doing research, especially the process of doing research and thereby making contributions to the field of child development. Furthermore, Heidi has gained a great deal of research experience and knowledge in infant sleep and literacy development. After graduation, Heidi is interested in continuing to work as a research assistant in a research lab and hopes to become a speech pathologist who works with children who have severe communication problems such as autism. In her free time, Heidi is the president for the Penn State Twirling club.
We wish Heidi the best as she continues her academic pursuits!