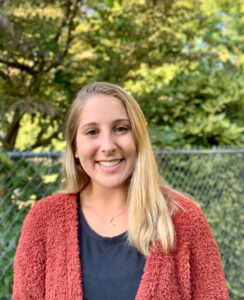 In a future career working with children, I would be committed to ensuring their well-being and meeting their emotional and developmental needs to help them succeed.
Colette is a Penn State senior majoring in Psychology and minoring in Sociology. During her sophomore year, her interest in understanding how individuals' experiences influence their behaviors and beliefs led her to Dr. Dawn Witherspoon's Context and Development Lab. Colette is an active participant during lab meetings, provides thoughtful feedback and answers during lab presentations and journal clubs, and has assisted with literature reviews. Her main responsibility is serving as a reliability coder for the Understanding Families, Adolescents, and Neighborhoods in Context (FAN-C) study which seeks to understand how neighborhood characteristics are related to adolescent outcomes and parenting techniques. One of her responsibilities on this project consists of coding participants' behaviors in focus groups. Colette is the only undergraduate who has reached reliable coder status. After graduation, Colette plans to attend graduate school to obtain a master's in school counseling. She looks forward to pursuing a career working with children.
Outside of the lab, Colette is a group leader for the Friendship Group Program in the Penn State Child Study Center. This program is an educational and outreach activity that provides activities to develop children's social skills. The curriculum used in the Friendship Group Program includes age-appropriate activities designed to target skills that have been identified as critical for building positive relationships in childhood. As a group leader, Colette presents and models these skills and strategies to participating children and provides the children with opportunities to practice them. During the spring 2022 semester, Colette served as a Teaching Assistant for Multicultural Psychology, which furthered her understanding of multiculturalism. Colette is also part of the International Honor Society in Psychology, Psi Chi. In her free time, she enjoys going on runs and spending time with friends.
The CSC wishes Colette all the best in her future academic pursuits!