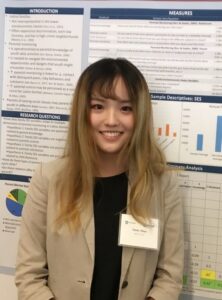 By working with Dr. Dawn Witherspoon, I learned that valuable qualities of a developmental scientist are self-initiation, detail orientation, and accomplishing things in a timely manner.
Chang Zhao is a Penn State senior double majoring in Psychology and Labor Employment Relations. She has been on the Dean's List for five semesters and is a member of the Psi Chi Honor Society. Chang joined Dr.  Dawn Witherspoon's Context and Development Lab in 2016 to pursue her research interests of studying the effects of parenting practices and parent-child relationships on the socioemotional development of youth in minority populations. Since that time, she has assisted with lab tasks related to multiple studies focusing on how aspects of the residential neighborhood, school, and family are related to African American and Latino adolescent and caregivers' adjustment and behavior. More specifically, Chang has helped with survey administration, data entry, and manual and codebook creation. In addition, she has conducted various literature searches to find empirical and factual evidence for the research questions pursued. Chang also completed an independent research project with Dr. Witherspoon examining the role of neighborhood social dynamics in parental monitoring and parental warmth in Latino families, and presented this work as part of a paper symposium at the 2018 SRA Biennial Meeting.
Through working as an undergraduate research assistant in Dr. Witherspoon's lab, Chang has gained a great deal of research experience and knowledge in family, community, and adolescent development. More importantly, from Dr. Witherspoon's example she has learned to take initiative and be self-disciplined. After graduating in Fall 2017, Chang will be carrying out an internship with the United Nations Policy and Conditions of Service Section (PCSS), Office of Human Resources of the Department of Management. She will be working on policy and rules within the United Nations. After the internship, Chang will continue her education and research on parenting, neighborhood and adolescent development in the Family and Human Development PhD program at Arizona State University. In her free time, Chang enjoys cooking.
We wish Chang the best as she continues her academic pursuits!