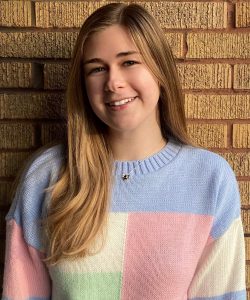 My undergraduate research has allowed me to learn a lot, which can inform my research methods in graduate school.
Carrie is a senior at Penn State majoring in Psychology with a specialization in Life Sciences. She became inspired to study psychology early in her undergraduate career after working with one of her professors, and now mentor, Dr. Cathleen Hunt. Through taking psychology classes, Carrie realized she wanted to get involved in research, which led her to work with Dr. Erika Lunkenheimer in the Parent-Child Dynamics Lab.
Currently, Carrie is a part of the Parenting Young Children Project team led by Dr. Lunkenheimer. This project seeks to understand "how parents and children regulate their behaviors, emotions, and physiology with one another while tackling challenges." One of Carrie's main responsibilities is to code moment-to-moment expression of emotion and behavior. The hope is this research will help inform risk and resiliency factors for children in families experiencing a lot of stress, especially in the context of child maltreatment. Furthermore, Carrie teaches a supplemental developmental psychology course, which prepares undergraduate students to meaningfully organize scientific literature for easier interpretation. She used this course to conduct an independent research project, under Dr. Hunt's mentorship, which she presented during the 2021 Eastern Psychological Association Conference. Carrie found that students who feel more competent when annotating scientific articles from the social sciences (i.e., psychology) also feel more competent doing so when reading literature from the natural sciences (i.e., biology).
Recently awarded the Costello Family Scholarship Award, which recognizes outstanding undergraduate students in Psychology, Carrie plans to continue in psychology after graduation. As an undergrad, she worked with young children at the Bennett Family Center and this has helped guide her decision to pursue further education in child psychology. Her hope is to conduct future research in early childhood emotional development, especially in disadvantaged populations. In her free time, Carrie is a devoted member of a co-ed a cappella group.
The CSC wishes Carrie all the best in her future academic pursuits!