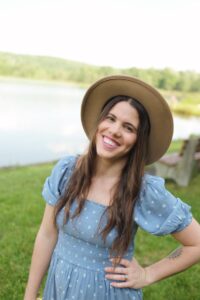 My goal is to develop a comprehensive neuroscience program of research where I use a multimethod neuroimaging approach to understand the development of emotion processing and regulation during infancy and childhood.
Berenice received her bachelor's degree in Psychology and master's degree in Cognitive Science from Western Kentucky University. As an undergrad, she worked in the Cognitive Behavioral Neuroscience Lab studying the neural correlates of cognitive control and emotion regulation. Berenice realized her interest in developmental psychology during her master's program, when she worked with Dr. Elizabeth Lemerise investigating self-regulation in preschoolers and the role that emotion/cognition play in the transition to kindergarten.
Berenice was drawn to Penn State's Developmental Psychology program because of the opportunity to train in developmental neuroscience with Dr. Koraly Pérez-Edgar through intersecting research across child temperament, attention, and emotion. Berenice's research focuses on mother-child interactions, child temperament, and brain development. Her dissertation project uses EEG to outline how neural trajectories linked to emotion regulation emerge and change during infancy as a function of early maternal anxiety, infant temperament, and mother-infant dyadic interactions. Her findings indicated that infant neural trajectories were influenced by changes in maternal anxiety levels and highlighted the importance of measuring maternal anxiety at multiple time points during the postpartum period. She also found that extreme changes in neural networks were linked with specific trajectories of infant negative affect, which is an aspect of early temperament associated with later psychopathology risk. Additionally, Berenice is collaborating with Dr. Jenae Neiderhiser on a paper that examines the influence of gene-environment interactions on the trajectories of child temperamental behavioral inhibition. This work is currently under review in Child Development.
During her graduate career, Berenice has received a NIMH Diversity Supplement (2018) and a NINDS F99/K00 award (2021) to study infant brain development and mother-infant interactions in the context of infant temperament and maternal psychopathology risk. Berenice has defended her dissertation and following graduation will join the Washington University Neonatal Development Research Lab at Washington University in St. Louis School of Medicine as a postdoctoral fellow working with Drs. Cynthia Rogers and Christopher Smyser. There, she plans to expand her neuroimaging expertise by training on infant structural and functional MRI to understand typical and atypical neurodevelopment underlying emotion regulation and psychopathology risk.