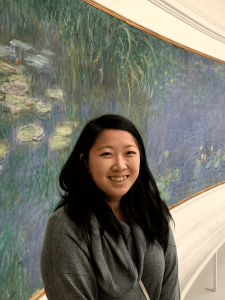 If we know enough about the timing of development, we can find the optimal periods of development where we can provide support for depressed and anxious parents.
Anna Zhou, a graduate student in the Developmental psychology program, received her undergraduate degree in Cognitive Brain Science and Child Development from Tufts University in 2015. Her first research experience was on a research project aimed to improve school readiness through incorporating STEM activities into bilingual Head Start classrooms. In the following years, she worked as a research assistant at the Harvard University Laboratory for Youth Mental Health, and on two different research projects in the Laboratories of Cognitive Neuroscience at Boston Children's Hospital. These experiences shaped her interest in factors affecting anxiety development in children, which is what attracted her to Dr. Kristin Buss' work.
In her current work with Dr. Buss, Anna has pursued her interest in examining the interactions between biological and environmental factors that affect the socioemotional development of children. For her master's thesis, she studied how child autonomic nervous system activity moderates the associations between maternal internalizing symptoms and trajectories of the child's internalizing symptoms, leading to an interest in the bidirectionality of internalizing symptom development in families, and how children can affect parents' internalizing symptoms. Through that work, Anna became interested in the role heritability plays in these processes, which led her to work with Dr. Jenae Neiderhiser. Often drawn to collaborating with others, Anna is also involved in a couple of other projects: one examining the bidirectional associations between maternal internalizing symptoms and infant's temperamental fear and baseline respiratory sinus arrhythmia (RSA), and another examining the interaction between temperament and autonomic nervous system activity to predict externalizing symptoms.
Anna's passion for research, teaching, and mentoring has only amplified her desire to stay in academia upon graduation. Anna is eager to continue learning about the interplay between biological and environmental risk factors during different developmental periods to help inform when prevention and intervention could be the most impactful.