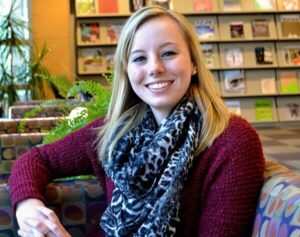 I've definitely learned the value of mentorship and having multiple mentors.
Alyssa joined the Emotion Development Lab to pursue her interests in child development research, and more specifically, to study how children deal with their emotions.  As a scholar in the McNair Program, she devised a project investigating how children's temperament in early childhood influences their social skills and peer relationships in kindergarten, depending upon their abilities to regulate their behavior.  She became interested in exploring these relations from reading previous work on how deficits in social skill are linked to psychological disorders later in life, especially in the school-age years.  She presented this work at the McNair Conference held at Penn State, as well as one held at the University of Maryland, in the summer of 2015.  Alyssa will be presenting a poster on an extension of this project at the 2016 International Congress of Infant Studies.  This work is also Alyssa's senior honor's thesis.
One of Alyssa's major accomplishments during her time at the Child Study Center has been working on a project from start to finish that was based out of her own interests.  She stresses that Dr. Kristin Buss really challenged her to take ownership over her own learning and devise a project of her choosing.  At this point in her research career, Alyssa is able to develop her own study ideas and run the appropriate statistical analyses, and she is currently working on a manuscript to be submitted for publication.  Alyssa has developed extensive experience in behavioral coding, including leading her own coding team for two years on multiple coding schemes.  Working in Dr. Martha Wadsworth's lab in addition has only added to Alyssa's breadth of experience in, and understanding of, child development.  After graduation, Alyssa is interested in pursuing a clinical doctoral program with a focus on children.  Specifically, she is interested in studying children who have experienced adversity in early childhood and how these experiences influence emotion regulation and psychopathology outcomes.  Moreover, Alyssa is interested in understanding the ways in which children learn about expressing and regulating their emotions and what these experiences look like in a school setting.
Alyssa is majoring in psychology and minoring in biology and sociology.  Alyssa also acts as a friendship group coach in the CSC, assisting children with their social and friendship-making skills.  When not in the Moore Building, Alyssa enjoys acting and directing, and she is the alumni liaison for No Refund Theater at Penn State.  She is a resident assistant and involved in Psi Chi.
We wish Alyssa the best as she continues her academic pursuits!