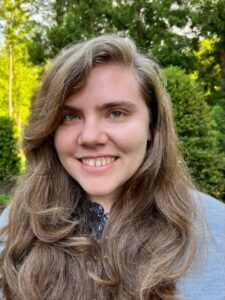 My hope is to study the nuances of neurocognitive mechanisms that drive and maintain transdiagnostic symptoms across development.
Alexandra (Ali) Roule is a fifth-year Child Clinical student. She received her undergraduate degree in Psychology with a minor in Biology from Wellesley College in 2016. Ali began her research career as an undergraduate working in Dr. Christen Deveney's lab conducting studies on the relationship between mood and cognition using EEG methodologies. Her thesis examined how feeling frustrated impacts young adults' interpretation of emotion in facial expressions. After graduating from Wellesley, Ali worked at the National Institute of Mental Health with Drs. Ellen Leibenluft and Melissa Brotman studying the neurocognitive mechanisms underlying pediatric irritability. Here, Ali became interested in the cognitive processes that underly transdiagnostic symptoms in child psychopathology and how basic research questions can further the field's understanding of psychopathology and interventions. Ali came to Penn State to continue studying the intersection of cognition and externalizing disorders with Dr. Cynthia Huang-Pollock.
Ali is interested in how basic neurocognitive research can inform the conceptualization of psychopathology and treatment interventions. Her graduate work has focused primarily on breaking down the cognitive processes that are involved in inhibitory control using a computational modeling technique, with a particular focus on how those processes may differ in youth with ADHD. Ali is currently working on a manuscript investigating how decision-making in different contexts can inform our understanding of the inhibitory control deficits often attributed to ADHD. Her work demonstrates that, when cued that they might need to stop a response in the future, children make proactive adjustments in their decision-making strategies to make it more likely that they will successfully stop a response in the future.
Ali plans to continue pursuing ways to refine the field's understanding of neurocognitive processes to improve the way we conceptualize childhood psychopathology. After graduate school, she hopes to develop her research career in an interdisciplinary clinical research hospital or institute setting where she can continue studying neurocognitive factors that lead to and maintain pediatric psychiatric disorders. She looks forward to the opportunity of making direct contributions to interventions as well.