We are pleased to announce the 2023 Irene E. Harms Graduate Scholarship Award recipient: Tiyobista Maereg, a Developmental Psychology graduate student.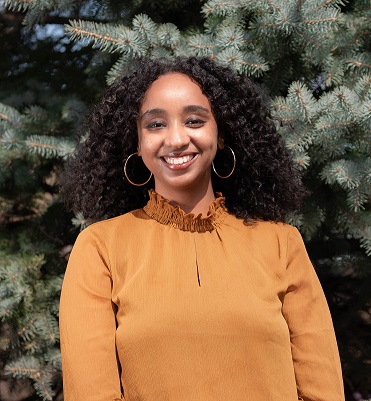 Tiyobista is a student committed to community-engaged research and translational science with a focus on the well-being of diverse individuals, particularly Black youth. Her mentor is Dr. Dawn Witherspoon. Tiyobista received her Bachelor of Arts degree in Psychology & Political Science as a McNair Scholar from the University of North Carolina at Chapel Hill. As a graduate student working on Dr. Witherspoon's Families, Adolescents, and Neighborhoods in Context study, she has investigated how context, particularly neighborhood, is associated with ethnic-racial identity, family functioning, and academic outcomes. Through her work on this project, Tiyobista has come to value the process of community-engaged research as well as qualitative research and she plans to incorporate both techniques into her planned research. As a graduate administrative assistant for Parents And Children Together, Tiyobista has learned the importance of keeping a community's best interests in mind during research. The Irene E. Harms award will provide Tiyobista the opportunity to get training in multiple methodologies, including the ICPSR Summer Program in Quantitative Methods of Social Research. This additional training, not available at Penn State, will help propel Tiyobista into a career committed to culturally- and contextually- informed research with the goal of bettering the lives of minoritized individuals and families.
The Irene E. Harms Award recognizes the outstanding academic potential of students who strive for academic excellence in one or more of three areas of child psychology: translational science, community-engaged research, and outreach to communities. Translational science includes research that bridges basic science and real-world applications and includes policy research. Child Clinical and Developmental graduate students in the Department of Psychology can apply for the award, which provides $4000 to be used for a variety of research-related activities and costs for translational and/or community-engaged research, and/or for community outreach.
Please join us in congratulating Tiyobista!