We are pleased to announce the 2021 Irene E. Harms Graduate Scholarship Award recipient: Anna Zhou, a Developmental Psychology graduate student.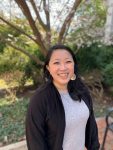 Anna's primary research interest is in how the interplay between biological and environmental factors are associated with trajectories of children's socioemotional development. She has been a strong advocate and leader of educational outreach to communities regarding Diversity, Equity & Inclusion. Her mentors are Kristin Buss and Jenae Neiderhiser. Anna received her Bachelor of Science degree in Cognitive and Brain Science, Child Studies and Human Development magna cum laude from Tufts University in Medford, Massachusetts, and gained lab experiences at the Boston Children's Hospital, Harvard University, and Tufts University both during her undergrad and postbaccalaureate years. As a graduate student, her research has mainly focused on deepening her understanding of the role of individual differences in temperament and the stress-response system on children's socioemotional development. Anna received the Penn State Graduate Student Service Award in 2021 for her work with the BRIDGE Diversity Alliance, Graduate Alliance for Diversity and Inclusion in the College of the Liberal Arts, and Parents And Children Together (PACT). Anna is grateful for the Irene E. Harms Award as it will allow her more time to devote to her research and dissertation preparations, as well as the opportunity to further her developmental methodology skills in working with genetically informed data. Anna looks forward to eventually translating her research into effective prevention and intervention programs for developmental science.
The Irene E. Harms Award recognizes the outstanding academic potential of students who strive for academic excellence in one or more of three areas of child psychology: translational science, community-engaged research, and outreach to communities. Translational science includes research that bridges basic science and real-world applications and includes policy research. Child Clinical and Developmental graduate students in the Department of Psychology can apply for the award, which provides $4000 to be used for a variety of research-related activities and costs for translational and/or community-engaged research, and/or for community outreach.
Please join us in congratulating Anna!