The Strumpf Scholar Award, provided by the Linda Brodsky Strumpf Liberal Arts Centennial Graduate Endowment, recognizes outstanding achievement and promise in areas of research supported by the Child Study Center. Students who receive the Strumpf Scholar Award show innovation and promise in their own research, often have multiple lines of research, and have begun the process of sharing this work with the child psychology research community via presentations and often publications.  Selected graduate students are provided with two years of funding for summer support, as well as additional funds for research-related costs.
We are pleased to announce the 2020 Strumpf Scholars: Junqiang (Jacob) Dai, a Developmental Psychology graduate student, and Lauren Vazquez, a Child Clinical Psychology graduate student.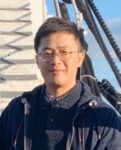 Jacob's research interest is on the development of face recognition behaviors in typically and atypically developing populations and how the brain system changes over time to support this development. His mentor is Dr. Suzy Scherf. Jacob received both a Bachelor of Science and Masters' degree in China. As a graduate student at Penn State, his master's thesis project focused on investigating peer bias in emerging adult face recognition behavior and the neural underpinnings supporting that bias. Jacob has numerous first-authored publications and presentations. He presented his findings at the annual meeting of the Vision Science Society, the leading international conference for vision research. He is delighted and honored to receive the Strumpf Scholar Award and feels it will be instrumental in helping position him to achieve an academic position at a major research university.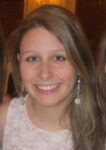 Lauren's primary research interests are parent-child interaction, child development, and the biological aspects of human functioning, in particular neural functioning. Lauren's mentor is Dr. Pamela Cole. Lauren received her Bachelor of Arts degree cum laude in Psychology from Pomona College in Claremont, CA, and did postbaccalaureate research at the Yale Child Study Center. In 2018, Lauren received her Master of Science in Clinical Psychology from Penn State. To date, she has first-authored one publication, co-authored four, first-authored four presentations and co-authored three. Her dissertation research will focus on the neural correlates of children's processing of affective prosody. Lauren is grateful for the opportunities the Strumpf Scholar Award will provide and looks forward to pursuing an academic career focused on understanding the individual and relationship factors that influence the development of emotion regulation.
Please join us in congratulating Jacob and Lauren!