The Strumpf Scholar Award, provided by the Linda Brodsky Strumpf Liberal Arts Centennial Graduate Endowment, recognizes outstanding achievement and promise in areas of research supported by the Child Study Center.  Students who receive the Strumpf Scholar Award show innovation and promise in their own research, often have multiple lines of research, and have begun the process of sharing this work with the child psychology research community via presentations and often publications.  Selected graduate students are provided with two years of summer support, as well as additional funds for research-related costs.
We are pleased to announce the 2019 Strumpf Scholars: Daryl Cooley, a Child Clinical Psychology graduate student, and Catherine Diercks, a Developmental Psychology graduate student.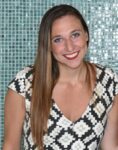 Daryl's research interests follow several broad themes: children's sleep, the development and amelioration of children's behavior problems, and child maltreatment. Her mentor is Dr. Sandra Azar. In 2014, Daryl received her Bachelor of Arts degree in Child Development, summa cum laude, high thesis honors, from Tufts University. She received her master's degree in 2018. Daryl's research has recently focused on sleep in disadvantaged parents and children. She has quickly mastered this new field of science and is one of the first researchers to explore the role of light exposure in child behavior problems. Daryl is grateful for the opportunity the Strumpf Scholar Award will provide, allowing her the ability to further her research and to pursue her goal of a research-focused career studying negative outcomes in children exposed to adverse life circumstances. Her hope is to be instrumental in creating system-level improvements for agencies that serve maltreated and other at-risk youth.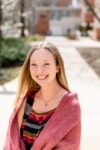 Catherine's research centers on how parents' mental skills, such as flexible thinking, self-control, and working memory, may play a role in the onset of child neglect. Her mentor is Dr. Erika Lunkenheimer. In 2015, Catherine received her Bachelor of Science in Psychology from the University of Oregon. She currently works in two labs and has pursued rigorous methodology training. She also spends a portion of her time mentoring undergraduate students and participating in community outreach events. With the Strumpf Scholar Award, Catherine will investigate parental executive function as a possible mechanism in the relation between parent risk factors (e.g., stress, childhood trauma) and neglectful parenting. Catherine is honored to receive the award as it will allow her the time and resources necessary to build her methodological skillset and pursue her goal of an academic research career.
Please join us in congratulating Daryl and Catherine!