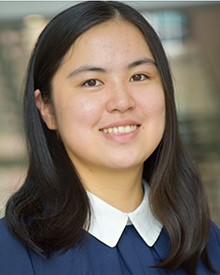 Tong Chen is a fourth-year graduate student in the Developmental Psychology doctoral program. Her research interests involve the intergenerational transmission of internalizing symptoms and the long-term impact internalizing problems could have for developmental outcomes such as alcohol use. Tong's primary mentor is Dr. Jenae Neiderhiser.
Prior to beginning her graduate work, Tong achieved a great deal of research experience at Tsinghua University in Beijing, China and at the Douglas Mental Health University Institute in Montreal, Canada. As a graduate student, Tong has simultaneously pursued training both inside and outside of her program. Her work with Dr. Neiderhiser has examined how genes and environments work together in the transmission of internalizing problems from parents to offspring. Findings from her master's thesis indicated that early infancy and early adolescence may be sensitive periods of exposure to maternal anxiety and depressive symptoms, controlling for genetic and prenatal influences measured by birth parent internalizing problems in a longitudinal parent-offspring adoption design. In 2020, Tong received a Prevention and Methodology Training (PAMT) Pre-doctoral fellowship from the Edna Bennett Pierce Prevention Research Center at Penn State, where she works with Drs. Jenae Neiderhiser, Jennifer Maggs, and Ashley Linden-Carmichael to examine the association between child and adolescent internalizing problems and adolescent/early adult alcohol use. Preliminary findings from one of her projects suggest there may be unique genetic influences explaining the association between anxiety symptoms and alcohol use, after accounting for the variance shared with depressive symptoms. Wanting to investigate her research questions outside of Western culture, she is working with Dr. Jennifer Glick in the Department of Sociology to examine how fathers' migration timing may influence adolescent behavioral problems through their learning environments in Nepal. Additionally, Tong participated in designing a study examining family interactions and mental health outcomes during a strict COVID-19 lockdown in Hubei Province, China.
The Strumpf Scholar Award will assist Tong in accomplishing both her short-term and long-term goals. In the short term, the award will help her devote time to her many research projects. She plans to conduct many analyses, present results at conferences, and write multiple dissertation papers. The award will also provide for travel to King's College London to collaborate with Dr. Thalia Eley, an expert in genetic and environmental influences on anxiety development. Each of these opportunities will help Tong reach her long-term goal of securing a tenure-track faculty position in a major research university.