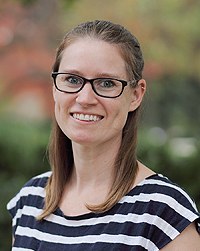 Kristine Marceau is an Assistant Professor of Human Development and Family Studies at Purdue University, with a courtesy appointment in the clinical area of the Department of Psychology at Purdue. She is a co-investigator on an NIH-funded grant and a consultant on another even larger NIH-funded grant. This year Kristine received two international-level awards: the 2021 Behavior Genetics Association Fuller and Scott Early Career Award and the 2021 Federation of Associations in Behavioral and Brain Sciences (FABBS) Early Career Impact Award for the Behavior Genetics Association. She has two first-authored publications forthcoming this year from top-tier journals and one more publication with her graduate student as first author. Her total number of first-authored publications is now 32.
In 2020, Kristine received Purdue University's Lorene Burkhart Award for Excellence in Research about Families. Prior to joining Purdue, Kristine completed a two-year postdoctoral fellowship with Dr. Valerie Knopik at Brown University. During the final year of her postdoctoral fellowship, Kristine was promoted to an Assistant Research Professor, a position she held for over a year. She also received a 2016 Rising Star award from the Association for Psychological Science.
As a graduate student, Kristine's research focused on the mechanisms that underlie the development of behavior problems, particularly gene-environment interplay and the reciprocal interactions between neuroendocrine functioning and family relationships. The title of her dissertation was, "Genetic, Hormone, and Family Environmental Influences on the Development of Adolescent Internalizing and Externalizing Problems." Kristine graduated from Penn State's Developmental Psychology PhD program in 2013 under the mentorship of Dr. Jenae Neiderhiser.
As a Strumpf Scholar, Kristine was able to use the scholarship funds to support the development of a NRSA grant proposal to the National Institutes of Health for her dissertation funding. The scholarship was also beneficial in terms of supporting professional networking at several national conferences.