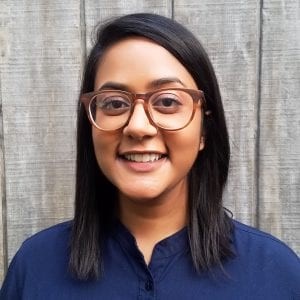 Esha Vaid is in her third year of Penn State's Child Clinical Psychology doctoral program. She is passionate about research that addresses issues of equity and social justice in the development and success of youth. Her primary mentor is Dr. Martha Wadsworth.
Esha has been working with Dr. Wadsworth in the Coping and Regulation of Environmental Stress Lab to explore mechanisms that drive disparate trajectories of mental and physical health, particularly for those faced with marginalization. Her master's thesis examined how experiences of poverty-related stress and racial discrimination impact Black, Indigenous, People of Color (BIPOC), and low-income youth's mental health. She recently began to examine first-generation undergraduate student stress and the contributing stress that may alter paths of academic achievement and attainment. She has gained meaningful insights about the experiences of students of color and first-generation students through her involvement with the BRIDGE Diversity Alliance at Penn State, of which she was named the first official TA. Esha received a Bachelor of Arts in Psychology summa cum laude with a minor in Statistics from Rutgers University in 2016. She is first author on five manuscripts and publications and first author on seven posters and presentations. She has extensive research and clinical experience, has attended many advanced training and workshop events, and has leadership experiences dating back to 2013.
The Strumpf Scholar Award will allow Esha to increase her engagement in research, contribute to more conferences, and disseminate findings that can be translated to better target community interventions for low-income, diverse groups. The funding would not only help her have more dedicated time and resources to grow her analytic skills but would also award her the ability to use her research to advocate for BIPOC individuals to reduce barriers overall. Esha is thankful for the Strumpf Scholar Award as it will help her accomplish her long-term goal of a research career devoted to promoting a more equitable trajectory for BIPOC and/or socioeconomically disadvantaged youth throughout development, from early education to Bachelors-level degrees.