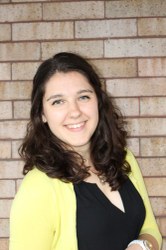 Christina Hlutkowsky is in her third year of the Child Clinical Psychology doctoral program. The focus of her research is improving the understanding of the taxonomy and measurement of psychological processes in the service of improved assessment, and therefore treatment, of childhood disorders. Her primary mentor is Dr. Cynthia Huang-Pollock.
Christina received her Bachelor of Science summa cum laude in 2015 from the University of Pittsburgh. She then spent four years as a post-baccalaureate research assistant with Dr. Susan Perlman in the Laboratory for Child Brain Development researching the neural correlates of emotion regulation and executive function. Her work in this lab was so exceptional, she co-authored seven academic papers, all in top-tier journals. As a graduate student, she works in Dr. Huang-Pollock's Child Attention and Learning Lab where she is investigating cognitive factors underlying childhood psychopathology, specifically ADHD and anxiety. She also works with Dr. Koraly Pérez-Edgar in the Cognition, Affect, and Temperament Lab where she studies socioemotional and cognitive developments in early childhood as they intersect with psychopathology. Christina has been instrumental in training lab members on the use of functional near-infrared spectroscopy (fNIRS). Her master's thesis examined the predictive validity of parent and teacher report of "executive functioning" to predict objective indices of the same phenomenon at two important developmental stages for attention: middle-childhood and preschool-aged. More recently, her work has focused on elucidating the cognitive subprocesses underlying common ADHD-related deficits in set shifting. In 2019, Christina received the Robert and Ruth Faris Child Psychology Enhancement Award and was presented with Psi Chi's Graduate TA of the Year award in 2020.
Receiving the Strumpf Scholar Award will allow Christina to expand her analytic expertise by beginning a collaboration with Dr. Sarah Karalunas, a graduate of the Child Clinical Psychology doctoral program at Penn State and currently an assistant professor of Clinical Psychology at Purdue University. Dr. Karalunas' expertise in network theory as related to ADHD, and electroencephalography imaging will provide an opportunity for Christina to advance her investigative skills and allow her to thoroughly integrate neuroimaging methods with clinical and behavioral approaches. She looks forward to a research-focused career examining ADHD and anxiety symptomatology and their network structures for the sake of unraveling more nuanced understanding and meaningful assessment of these disorders in children.