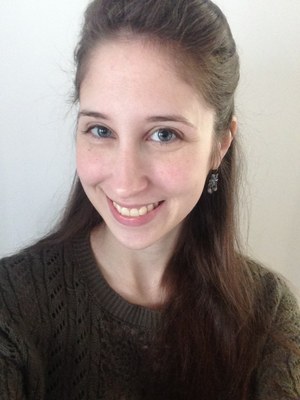 Alicia Vallorani continues in the Developmental Psychology PhD program. Alicia's projects examine how naturalistic social attention and neural processing of socio-emotional stimuli relate to social engagement with peers. Alicia uses mobile eye-tracking technology to measure naturalistic social attention and uses electrophysiology (EEG/ERP) and functional magnetic resonance imaging (fMRI) to measure the neural processing of socio-emotional stimuli. In January 2020, Alicia was awarded a NIMH NRSA training grant to fund her dissertation research, which will examine relations between behavior, social attention, and mentalizing system and threat circuit connectivity as markers of social engagement in anxious adolescents. In April 2020, she was the recipient of the SLEIC Dissertation Award at Penn State. She is co-first author on one paper and has three first-author publications under review. Her primary mentors are Dr. Koraly Pérez-Edgar and Dr. Kristin Buss.
As a graduate student, Alicia works in three labs: Dr. Pérez-Edgar's Cognition, Affect, and Temperament Lab (CAT Lab), Dr. Buss' Emotion Development Lab (EDL), and Dr. Huang-Pollock's Child Attention Lab (CAL). Alicia's projects examine how temperamental profiles during infancy predict social engagement during early childhood and how attention tethers infants and children to developmental trajectories leading to social anxiety. Additionally, Alicia manages the CAT Lab website and served as President of the Penn State AXONS, a student neuroscience group. She has received several awards, including a Linda B. Strumpf Liberal Arts Centennial Graduate Scholar Award for promise in research related to child development. Alicia received her Bachelor of Arts from Knox College, Galesburg, Illinois, in 2011 with a major in Psychology and her Master of Science in Experimental Psychology from Western Illinois University in 2016.
The Strumpf Scholar Award will allow Alicia to focus on her two lines of research by enabling her to dedicate summers to furthering her training and by providing ample opportunities to collaborate with mentors both at Penn State and other universities. She plans to expand her training in longitudinal data analysis and neuroimaging techniques. She expects to learn how to use latent transition analysis (LTA) to assess affect-biased attention across time, and she will seek training opportunities in fMRI data collection, processing, and analysis, as well as training in mobile eye-tracking data collection and processing. Alicia is greatly honored to receive the Strumpf Scholar Award and is grateful for the opportunity it will provide her to continue developing a program of research that will greatly enhance her training as a developmental scientist.