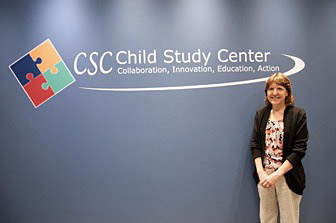 "Life affords no greater responsibility, no greater privilege, than the raising of the next generation."
Welcome to the website of the Child Study Center (CSC) at The Pennsylvania State University.
Our vision and mission reflect Penn State's unique commitment to the integration of research, teaching, and outreach, and to the belief that interdisciplinary science holds great promise for addressing pressing societal issues. At the CSC, faculty and students from psychology, education, human development and other disciplines join with community partners to design and transform developmental science in order to improve outcomes for children and families.
By cultivating interdisciplinary collaborations, reaching out to work with a broad network of schools and communities, and fostering creative innovation and problem solving, the CSC strives to make cutting-edge advances in developmental science that can inform education, health, and mental health practices. We are deeply committed to fostering the capacity of our graduate and undergraduate students to make connections between their academic coursework and research and "real-world" issues facing children and families, particularly those who are most vulnerable. With the invaluable support of our donors and funders as well as our partners at Penn State and in the community, the CSC seeks to leverage the deep intellectual resources and the research and training capacity of Penn State in order to enhance understanding and identify solutions, thereby improving the quality of developmental support available to children and promoting positive educational, health, and mental health outcomes.
We encourage you to explore our site and learn more about the initiatives and the ongoing activities of the CSC.
Karen Bierman, Director, CSC