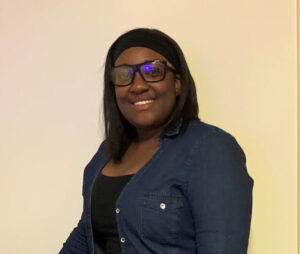 I am really interested in identity, so the thesis and the lab work are good stepping stones toward what I want to research in the future.
Shadane Johnson is a Penn State senior in the Schreyer Honors College majoring in Psychology and minoring in Sociology. She has worked with Dr. Dawn Witherspoon in the Context and Development Lab since spring of her junior year.
Shadane joined Dr. Witherspoon's lab to pursue her interest in studying how context and sociocultural factors influence identity in minority youth. Her work in the lab has included collecting data in community settings, conducting literature reviews, and managing data. For her honor's thesis with Dr. Witherspoon, Shadane examined how neighborhood structural and social characteristics impact ethnic-racial identity for African American and Latino youth and whether parents' ethnic-racial socialization mediates these associations. She presented her research at the Spring 2020 Undergraduate Research Exhibition. Shadane was also accepted to the competitive Undergraduate Scholars Program at the Society for Research on Adolescence, which provides professional development opportunities and additional mentorship from junior and senior scholars who conduct research on adolescence.
Through her research experiences, Shadane has gained valuable skills, such as writing for academic audiences and conducting statistical analyses using software like SPSS and Mplus. She views these skills as building blocks that will help facilitate her career. Shadane plans to apply to doctoral programs in Developmental Psychology in Fall 2020 and ultimately hopes to pursue a career in academia. In her free time, she enjoys playing musical instruments, including guitar, piano, bass, and ukulele.
The CSC wishes Shadane all the best as she continues her academic pursuits!