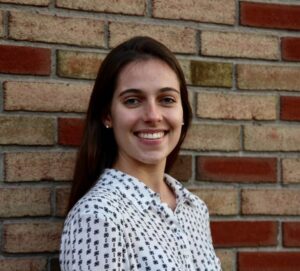 Something I love about research is feeling like I am actively, positively contributing to my society by helping to understand the health problems that we are facing.
Olivia is a junior at Penn State majoring in Nutritional Sciences and minoring in Global Health and French. Since her sophomore year, Olivia has been working with Dr. Kathleen Keller in the Metabolic Kitchen and Children's Eating Behavior Laboratory, where she assists with studies of children's eating and risk for obesity.
As a senior research assistant in Dr. Keller's lab, Olivia collects data with families, helps train research assistants, manages databases, and is helping to develop a lab-based coding scheme for children's eating behaviors during meals. Olivia was awarded an undergraduate research grant from the College of Health and Human Development for her proposal to test whether children's ability to discriminate food portion size is associated with body composition. She will begin working on this research with Dr. Keller during the summer of 2020 and plans to present it at a conference next year. In addition to her work on campus, Olivia completed a summer internship in global health at a nonprofit media organization, where she worked on a project supporting a nutrition program in Sri Lanka.
Olivia plans to continue pursuing her interest in nutrition as it relates to public health domestically and abroad. After graduating and obtaining additional work experience, Olivia would like to apply to graduate school; she is considering programs in public health.
The CSC wishes Olivia success in her future academic and professional pursuits!