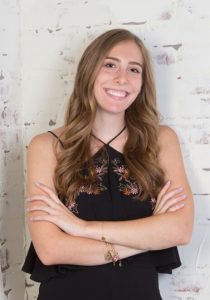 What I really like about research is that even as someone so young, I can contribute to the larger body of scientific work.
Julianna is a junior at Penn State majoring in Psychology and minoring in Human Development and Family Studies. From the start, she knew she wanted to work with families and adolescents but was unsure how to develop this interest. After taking a few psychology classes and expressing her interest in the field to her professors, they advised her to consider research. This led Julianna to Dr. Kristin Buss' Emotion Development Lab.
Initially, Julianna was part of the Temperament, Evolving Emotions, and Neuroscience Study where she was responsible for coding data from physiological measures of the nervous system. Since then, she has taken on various lab tasks. Of particular interest to Julianna is the coding of diagnostic interviews, specifically, assessing the anxiety symptoms endorsed by both children and their parents. For that task, she has taken the role of a reliability coder, ensuring the quality of the coded data. Julianna is also working on an independent project with one of Dr. Buss' graduate students, Anna Zhou. Julianna is examining discrepancies in adolescents' anxiety symptoms when comparing mother report to adolescent self-report. She recently received undergraduate research funding and she is eager to get to the next step of analyzing the data. Upon data analysis, Julianna hopes she can publish her work in an academic journal.
After graduation, Julianna plans to begin a child clinical doctoral program, which will allow her to be involved in both research and applied clinical work. Outside the lab, Julianna has been involved with both the Dancer Relations and Communication Committees of Penn State's THON since her freshman year. She also recently joined Lion Ambassadors, the Penn State student alumni corps, whose primary mission is to promote Penn State history, tradition, and personality to past, current, and prospective students, family, and friends of the University.
The CSC wishes Julianna all the best in her future academic pursuits!