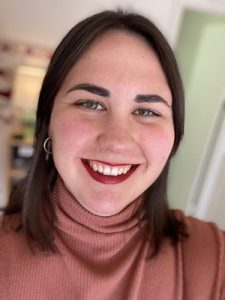 My goal is to research temperament and capture early risk factors that will help us develop mental and physical health interventions and health policies to make an impact.
Elizabeth received her undergraduate degree in Psychology with a minor in animal science from Washington State University in 2016. As an undergrad, she gained comprehensive research training by working in three different labs with Dr. Maria Gartstein, Dr. Sammy Perone, and Dr. Courtney Meehan. These experiences helped shape her interest in the biological basis of temperament, especially behavioral inhibition, which ultimately led to her pursing a graduate career in Penn State's Developmental Psychology program.
Elizabeth is currently working with her primary advisor, Dr. Koraly Pérez-Edgar, in the Cognition, Affect, and Temperament Lab in the Psychology Department, and with Dr. Sonia Cavigelli in the Behavioral Neuroendocrinology Lab in the Department of Biobehavioral Health. For her master's thesis, she investigated parenting styles and respiratory sinus arrhythmia (RSA), a marker of the autonomic nervous system activity, as a mechanism underlying the development of self-regulation in 5 to 7-year-old children. Elizabeth found that children with less biological capacity for regulation who had more authoritarian parents showed a lower ability for self-regulation. Currently, she is collaborating on a project that examines the second-by-second rate and timing of developmental changes of RSA during infant's fear response. Simultaneously, she is examining animal models of temperament, studying the composition of rodents' gut microbiome and its relation to their behavior through the gut-brain axis, as well as to their neural, immune, cardiovascular, and endocrine systems. With that work, Elizabeth is hoping to be able to translate her findings from animal to human infant models to better understand how biological systems underlie both mental and physical health outcomes.
Last year, Elizabeth was awarded the Clinical and Translational Science Institute TL1 Fellowship that is allowing her to collaborate with graduate students from other departments at Penn State. This collaboration is especially important to her as her ultimate goal is to use her findings to make an impact on interventions and health policies that will prevent maladaptive health outcomes.