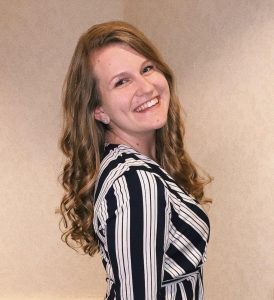 My experiences in research and applied mental health work have helped me understand the social and environmental factors influencing access to health care.
Caitlin is a Penn State Schreyer Honors College senior majoring in Psychology with a Neuroscience option and minoring in Biology. She will also graduate with an undergraduate certificate in Diversity Studies. Throughout her undergraduate years, Caitlin has not only excelled in academic endeavors but has also been continuously involved in research.
As a freshman, Caitlin was a research assistant in the Gene Environment Interplay Across the Lifespan Lab, working with Dr. Jenae Neiderhiser. One of her main responsibilities was to code sensitive information from medical records as a part of a longitudinal study examining the interplay between children's biology and environment. In her sophomore year, Caitlin joined Dr. Suzy Scherf's Laboratory of Developmental Neuroscience so she could directly work with human participants. As a member of the Face Recognition in Emerging Adults project, she facilitated the administration of screening materials, scheduled participants, and trained new undergraduate students. For her honor's thesis, Caitlin is investigating the influence of romantic relationships on perception of social sexual facial expressions, like desire and flirtation. She is examining whether being in a committed relationship makes you better at perceiving those same expressions in other people or if this is only true within the relationship context.
Caitlin also works at the Meadows Psychiatric Center where she interacts with inpatient adults who have acute psychiatric disorders. Her experience providing direct patient care has resulted in her concern for healthcare reform and creating access to equitable health care. Caitlin plans to become a Physician Assistant and eventually would like to advance her career into healthcare administration, applying a patient-centered approach. Next year, Caitlin plans to attend Penn State's Master program in Management and Organizational Leadership, prior to applying to Physician Assistant and Public Health dual programs.
The CSC wishes Caitlin all the best in her future academic pursuits!